The term "Credit Repair" refers to the practice of raising one's credit rating through a series of manageable measures. You can improve your credit score in several ways, such as:
Establishing a brand-new line of credit
Debt consolidation
Getting rid of bad history that has passed its deadline.
Expunging dubious debt collections
Reduction of all debts
A current, complete copy of your credit history is an essential first step in the credit repair process. After you have obtained a copy of your credit report, the first thing you should do is check it for any bad entries, such as accounts in collection or debts that have not been paid.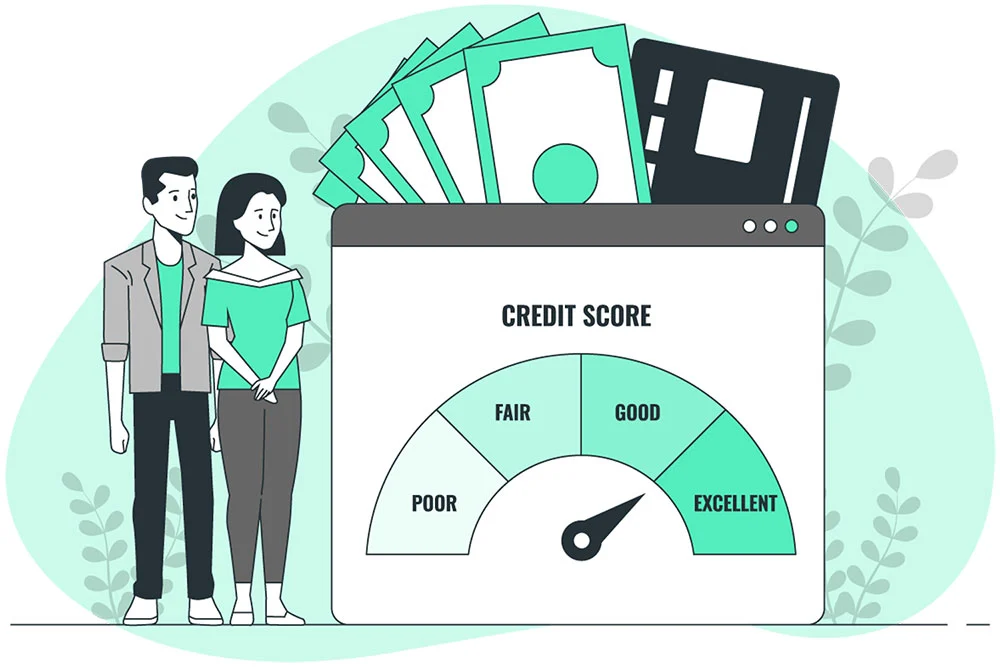 Establish a brand-new line of credit
If you haven't used credit in a while, opening a new line of credit like a credit card and keeping it active for at least a year will help repair or enhance your credit history.
It goes without saying that you should never be late with a payment, but even more significantly, you should never let your debt get above 50% of your credit limit. If you pay on time, the lower the proportion, the better your credit score.
When a someone has a poor credit score since they do not have a necessary credit history, getting new credit can help raise their credit score.
Get a good credit score co-signer
It may be challenging for you to establish new credit lines if you do not have a credit record or if your credit history contains negative information. Try asking a close friend or relative if they would be willing to co-sign a credit card or line of credit in your name. You should be added so that it is clear you will be held financially liable for the line of credit, and not merely an authorized user. Authorized users are evaluated in a different way by credit bureaus than the actual debtor.
Backed Credit Card
Consider applying for a secured credit card if you have a hard time establishing new credit. You'll need to put down a deposit before you can get approved for a secured credit card, which makes it operate a little differently from a standard unsecured credit card.
If you want a new credit card with a limit of $1,000, for instance, you will have to make a deposit of $1,000 in order to open the line of credit. The deposit will be held by the bank to secure timely payment. Failure to make payments will result in the loss of $1,000 and further damage to your credit.
Those with little or no credit history can benefit from a secured credit card since it helps them build credit as they build a credit background.
Maintaining open credit lines after paying off loans is similar to how consolidating debts works. Your goal is to reorganize your loans in a way that results in an increase in accessible credit.
Consider balance transfers as well as consolidation onto credit cards that would provide 0% apr for 12 or 24 months if you have a few credit cards with varying interest rates.
It's much easier to reduce your debt and boost your credit score when you don't have to worry about paying interest.
Credit repair and defaulted debts
There are two ways to deal with debts that have not yet been turned over to collections:
Make payments and bring accounts current.
Let the debt to be collected by the collection agency.
Don't let your credit repair efforts stall because you waited too long to take care of past due accounts and now, they've gone to collectors. Due to limitations in available funds or other sources of revenue, sometimes the only choice is to let the debt go to collections.
Cash flow (Income minus Expenses) is the lifeblood of your financial well-being and must be balanced before credit could be repaired.
Get rid of bad history that has passed its deadline
Removing negative entries from your credit history that is older than the statute of limitations can also significantly boost your credit score. By learning about the time limits that apply to both debts and bankruptcies, you can restore your credit score by having negative information purged from your credit history when the appropriate period has elapsed.
Statute of Limitations for Bankruptcy
Declaring bankruptcy is a difficult choice because it ruins your credit score for years to come. Avoid declaring bankruptcy unless absolutely necessary, as doing so can make it difficult, if not impossible, to get fresh credit in the future. Bankruptcy might remain on your credit report for 10 years before it is removed from your file.
Statute of Limitations for Debts
The statute of limitations for debts is six years, starting to run six months following the last payment was due. After that time, collectors cannot add the delinquency to your credit report. Although the collection agency that bought your debt cannot affect your credit score, they might still try to collect from you. If you pay even one penny on the debt, the statute of limitations starts over. This means that the debt will stay on your credit report for another 6 1/2 years.
Expunging dubious debt collections
Negative information in collections severely affects your credit score. Your credit report should only include collection accounts that are accurate, comprehensive, and verifiable in accordance with the Fair Credit Reporting Act.
While many collections are reliable, there are exceptions. Certain collections may be deleted from your credit report and repaired if you send your accounts through a specified verification process.
Checking the veracity of any collections listed on your credit record is a good idea before agreeing to any payment terms.
If you want to improve your credit score and still have some debts left, perhaps one of the easiest things you can do is to pay off or reduce your debts. Using more than half of your allocated credit limit can have a negative impact on your credit score. Because it looks like your finances are tight if you use up all your available credit, the credit reporting agencies may question your ability to make future large expenditures. If you want to raise your credit score, one of the first things you should do is reduce your outstanding debt to less than half of your total credit limit.
Make sure to keep your credit card active even after your balance has been paid off
No matter how much debt you pay off, you also should keep your credit card accounts active. If you don't want to carry them around once you're done using them, just destroy them or hide them. Keep them active because they represent a good standing credit that you can access if need be.
Say you had two credit cards, one with a $5,000 limit, and the other with a $1,000 limit with a $1,000 balance. It's time to close that $5,000 credit card account you've been using. The $1,000 debt on your single remaining credit card represents 100% of your available credit ($1,000 divided by $1,000).
If you hadn't closed the credit card with the $5,000 limit, you'd have just one open line of credit at 16% of your credit available ($1,000 / $6,000).
Get an

Installment Loan

to improve your credit score
Get Personal Installment Loan in 30 Minutes from Cascade Springs Credit Loans and you can use it for anything you want or need
You can get up to $800 as soon as the next business day.
Applying DOES NOT Affect Your Credit Score