How To deal With Unexpected Medical Bills
You may be young and in good condition, but that doesn't guarantee that you won't experience a medical emergency someday and end up facing some astronomical costs. It's easy to procrastinate when faced with such a pile of expenses.
The fact is that you must pay them. Medical debt is the most typical sort of debt collection that customers' credit reports contain, according to the Consumer Financial Protection Bureau.
To learn how to deal with unexpected medical bills, make sure you take the following actions if a hefty hospital or doctor's bill is handed to you.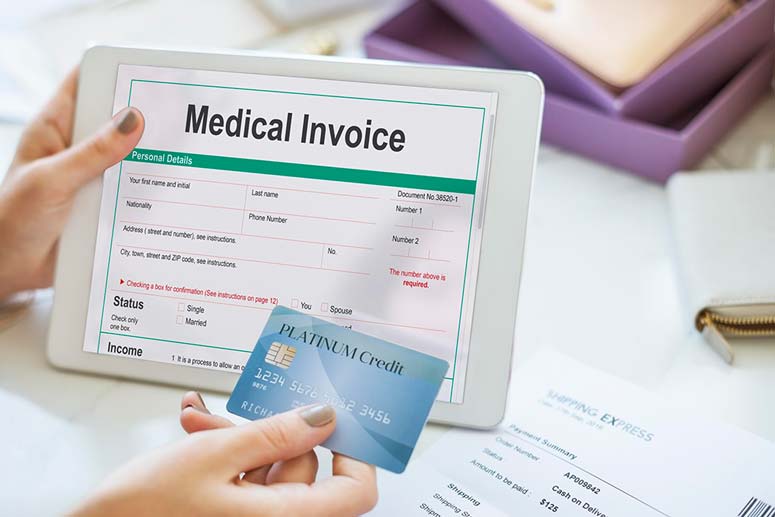 Verify the charges are correct!
The high cost of medical care could be attributed in part to billing errors and systemic inefficiency.
Common examples include billing for unnecessary services or drugs that were never taken. A full day's lodging rate may be charged even if you check out early in the morning after a lengthy hospital stay.
Do not disregard your Medical bills
This is an essential point that must be highlighted. Avoid ignoring your bills at all costs; it's one of the worst things you could do. If you do, your credit score will be severely impacted, and your invoices will eventually be sent to collections, which will result in a lot of unpleasant calls and messages.
Avoid using credit cards to pay for medical expenses
It could be tempting to use credit cards to pay off what seems like an endless pile of medical bills just to get the doctors off your back. However, credit cards should never be used to cover or the way how to deal with unexpected medical bills.
High interest rates make it difficult to repay a credit card amount in full. Your credit score may take a serious hit because of this.
Medical debts, in contrast to other types of debt, have more room for negotiation over payments. You can get by for a while making smaller payments if you make some payment and establish a payment schedule. The interest rate on medical debt is far lower than on credit card debt or student loans.
Decide for a payment plan with no interest
There are interest-free payment plans available, but "it's typically stated in the fine print on the statement".
The monthly payment amount could be negotiated with the hospital or doctor's office. They will begin by giving you a figure that might be too high for you. Don't be shy about reasoning with them. 
You may be eligible for a one-time discount from certain medical facilities and clinics if you pay your entire bill within 30 days. You could get 10% off.
Get a discount for early payment!
We encourage you to try to negotiate a lower price for yourself. If you check the Healthcare Blue Book to verify what other neighboring hospitals or doctors charge for the type of service you had, you will have more to argue about. You have the right to ask for a refund if you feel you were unfairly charged a high amount. 
Request financial assistance
We recommend that you apply for financial assistance if you are in a condition where you are unable to pay any amount.
The good news is Most hospitals have this option, but each one has its own way of doing it. Some require you to first qualify for Medicaid (you may be eligible if you are under the age of 26 and make less than $17000). If you are turned down, you may ask the hospital for help. There is a lot of paperwork involved, but other hospitals offer a simpler procedure.
Borrowing money is a risky business because of the interest rate you'll have to pay if you default. We're recommending this route since the interest rate is lower than what you'd pay on a credit card balance.
So, if you are wondering how do deal with unexpected medical bills at this point, you should look into using Personal Installment Loan. There's a dedicated section for healthcare costs, and they'll shop around to get you the best available deal.
Take care of the debt collection agencies
While thinking about how to deal with unexpected medical bills, you should bear in mind the debt collection agencies
You must deal with it if the worst has happened, and your invoices have been turned over to a collection's agency. Internal collections agencies, like those in a hospital, are more likely to work out payment plans and wait to report to credit bureaus than third-party debt collectors.
To reduce the stress of dealing with debt collectors, consider the following:
Be aware of the powers of collectors
To your surprise, debt collectors are not allowed to contact you an overwhelming number of times or before 8 a.m. or after 9 p.m.
Also, they cannot do the following:
If your medical debt was transferred within a year, report it to the credit bureaus.
Report any medical debts under $500.
Against your request, call you at work.
threatened with legal action against you without good cause.
Tell you that not paying is a felony.
Threaten to reveal your debt (except to your wife or attorney).
Any other non-sense intimidations.
Record calls and document everything.
Debt collectors are not allowed to threaten you during conversations with them, but things can get ugly fast. You may want to file a lawsuit if they do. Therefore, make sure to record any phone conversations you have with debt collectors.
Make sure to have a written agreement once you've determined your financial capacity. Make no payments until the actual document is in your possession.
Keep all proof of payments so that you can show that you did what you promised if there is ever a dispute regarding your debt.
Make a payment offer
Debt collectors want of course the full amount to be paid, but you should stand your ground and offer to pay what you can afford. Most likely, they will agree.
Expect to get one or more counteroffers. In the end, this is what debt collectors are supposed to achieve.
It would be far better for your credit score if you could pay off the debt entirely, but it's likely impossible. Consequently, that is how you came to be in this situation. Just propose paying what you are able to.
How To deal With Unexpected Medical Bills conclusions
When wondering how do deal with unexpected medical bills, you should bear in mind a few things.
There is no immediate repercussion for not paying unexpected medical bills, unlike mortgage or credit card payments.
However, as with any company, healthcare centers that go unpaid must eventually hand over their accounts to collection agencies. Also, when they get involved, negotiations are much harder, and your credit score could drop for up to seven years. 
How to Deal with Unexpected

Medical Bills

?
Get Personal Installment Loan in 30 Minutes from Cascade Springs Credit Loans and you can use it for anything you want or need
You can get up to $800 as soon as the next business day.
Applying DOES NOT Affect Your Credit Score