Halloween Loans: A Scary or Smart Choice?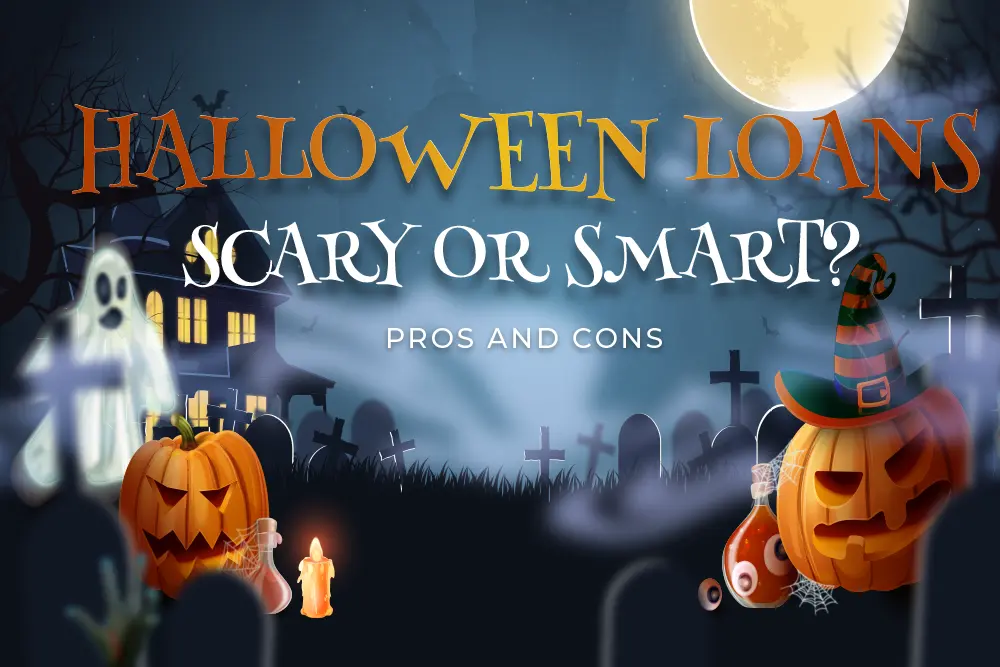 Halloween is a festive time of year when people love to celebrate with costumes, decorations, and parties. However, the expenses associated with Halloween celebrations can add up quickly. To meet these financial demands, some individuals consider taking out loans specifically for Halloween expenses. In this blog post, we will provide a balanced analysis of the pros and cons of using loans for Halloween celebrations, helping you make an informed decision about whether Halloween loans are a scary or smart choice.
What are Halloween loans?
When it comes to financing your Halloween festivities, Halloween loans can be a helpful resource. These specialized loans provide individuals with the funds they need to create a memorable and thrilling Halloween experience.
Halloween loans are a type of personal loan specifically designed to cover the expenses associated with Halloween celebrations. These loans can be used to finance costumes, decorations, party supplies, and even tickets to haunted attractions. They are typically unsecured loans, meaning that no collateral is required, and can be obtained from banks, credit unions, online lenders, or specialized lenders that cater specifically to holiday financing.
Advantages of Using Loans for Halloween Celebrations
Immediate Access to Funds
When it comes to Halloween preparations, time is of the essence. Loans offer a convenient and quick solution for accessing the necessary funds. With a loan, you can have the money you need in your bank account within a short period, allowing you to make timely purchases for costumes, decorations, and other Halloween essentials.
Maintain Traditions
Halloween is a time filled with traditions, and for many, it is important to uphold these customs. Using a loan to cover Halloween expenses can help ensure that you can continue to celebrate in the way you and your family have always enjoyed. Loans can provide the financial means to buy candy for trick-or-treaters, create elaborate costumes, or host a memorable Halloween party.
Flexibility
The variety of loan options available allows for flexibility when it comes to repayment. Depending on your financial situation and preferences, you can choose a loan with terms that suit your needs. Whether it's a short-term loan or a personal line of credit, you can find a loan that aligns with your Halloween budget and repayment capabilities.
Disadvantages of Using Loans for Halloween Celebrations
Interest and Fees
One of the key drawbacks of using loans for Halloween expenses is the cost associated with borrowing. Loans typically come with interest rates and potential fees, which can significantly increase the overall amount you need to repay. It's important to carefully consider the interest rates and fees associated with the loan and determine if the extra cost is worth the convenience of immediate funds.
Debt Accumulation
Borrowing money for non-essential expenses like Halloween can lead to a cycle of debt if not managed responsibly. Taking out loans without a plan for repayment may result in accumulating debt that becomes difficult to pay off. It's crucial to assess your financial situation and ensure that you can comfortably repay the loan without putting yourself in a precarious position.
Financial Stress
Managing loan repayments alongside everyday expenses can cause financial stress. When taking out a loan, it's essential to consider your current financial obligations and ensure that adding loan repayments to the mix won't strain your budget. Failure to meet loan payments can impact your credit score and lead to further financial challenges.
Risk of Overindulgence
Having easy access to funds through loans can tempt individuals to overspend during Halloween. It's important to set a budget and stick to it, even if you have the means to borrow more. Overspending on Halloween celebrations can lead to financial difficulties down the line, affecting your overall financial well-being.
Credit Score Impact
Borrowing irresponsibly can negatively impact your credit score. Failure to make loan payments on time or defaulting on a loan can have long-lasting consequences for your creditworthiness. Before taking out a loan, carefully evaluate your ability to repay it and consider the potential impact on your credit rating.
Responsible Borrowing for Halloween
Budgeting Tips
To avoid excessive spending, create a Halloween budget that outlines your planned expenses. Set a limit for costumes, decorations, and parties, and stick to it. By budgeting effectively, you can celebrate Halloween without the need for extensive borrowing.
Loan Options
If you decide that a Halloween loan is the right choice for you, explore different loan options available. Personal loans, credit cards, or lines of credit may be suitable depending on your financial circumstances. Compare interest rates, repayment terms, and fees to ensure you choose the loan that best fits your needs.
Alternative Ideas
Remember that celebrating Halloween doesn't have to break the bank. There are numerous creative and budget-friendly ways to enjoy the holiday without relying on loans. Consider hosting a potluck-style party, creating DIY costumes, or organizing neighborhood events that share the costs and fun of Halloween.
How to Get Halloween Loans
Eligibility criteria for Halloween loans
The eligibility criteria for Halloween loans may vary depending on the lender and the loan amount. However, some common requirements include:
Age: You must be at least 18 years old to apply for a Halloween loan.
Income and employment: Lenders typically require proof of a stable income source and employment to ensure that you can repay the loan.
Credit history: While lenders may consider applicants with various credit profiles, a good credit history can increase your chances of obtaining a Halloween loan with favorable terms.
Documentation: Prepare necessary documents such as identification, proof of income, and bank statements to support your loan application.
Steps to get a Halloween loan
Research lenders: Start by researching lenders that offer Halloween loans. Look for reputable institutions that have positive customer reviews and offer competitive rates.
Compare loan terms: Evaluate the interest rates, repayment terms, and any additional fees associated with the loan. Choose the option that best suits your financial situation.
Gather documents: Collect the required documents to support your loan application, such as identification, proof of income, and bank statements.
Submit your application: Complete the lender's application process, either online or in-person. Provide accurate and honest information.
Review and accept the loan offer: If approved, carefully review the loan terms and conditions. Ensure you understand all aspects of the loan before accepting the offer.
Repay the loan: Make timely repayments according to the agreed-upon schedule to avoid any negative consequences.
Deciding whether or not to use loans for Halloween celebrations is a personal choice that depends on your financial situation and priorities. While loans can provide immediate access to funds and help maintain Halloween traditions, they also come with costs and potential risks. It's essential to evaluate the advantages and disadvantages carefully and consider alternative options before making a decision. By being responsible and mindful of your financial well-being, you can ensure a happy and financially healthy Halloween.
Frequently Asked Questions
1. Are Halloween loans specifically designed for Halloween expenses?
No, Halloween loans are not a specific type of loan. They refer to borrowing money to cover Halloween-related expenses.
2. What types of loans can be used for Halloween expenses?
Personal loans, credit cards, and lines of credit are common options for covering Halloween expenses.
3. Can I get a loan for Halloween if I have bad credit?
It may be more challenging to obtain a loan with bad credit, but there are lenders such Cascade Springs Credit who specialize in offering loans to individuals with less-than-perfect credit scores.
4. How can I avoid debt when using a loan for Halloween?
To avoid debt, it's important to create a budget and stick to it. Only borrow what you can afford to repay comfortably and make sure to factor in the additional costs of interest and fees.
5. Are there any alternatives to borrowing for Halloween expenses?
Yes, there are many alternatives to borrowing for Halloween expenses. You can create a budget, explore DIY options for costumes and decorations, or consider organizing shared events with friends and neighbors to share the costs of celebrations.
Cascade Springs Credit

Loans for Halloween
Get Personal Installment Loan in 30 Minutes from Cascade Springs Credit Loans and you can use it for anything you want or need
You can get up to $800 as soon as the next business day.
Applying DOES NOT Affect Your Credit Score