7 Top Money Borrowing Myths
Borrowing and the dynamics that influence it have changed and evolved over time.
The lending industry is expanding today with the presence of businesses of all stripes.
Because there are so many alternatives in such a competitive marketplace, certain misconceptions have begun to spread, myths that can be harmful to those who believe them. We'll highlight the top few in this post, uncover the truth from them, and hopefully put you in a better position to bring an end to your money problems.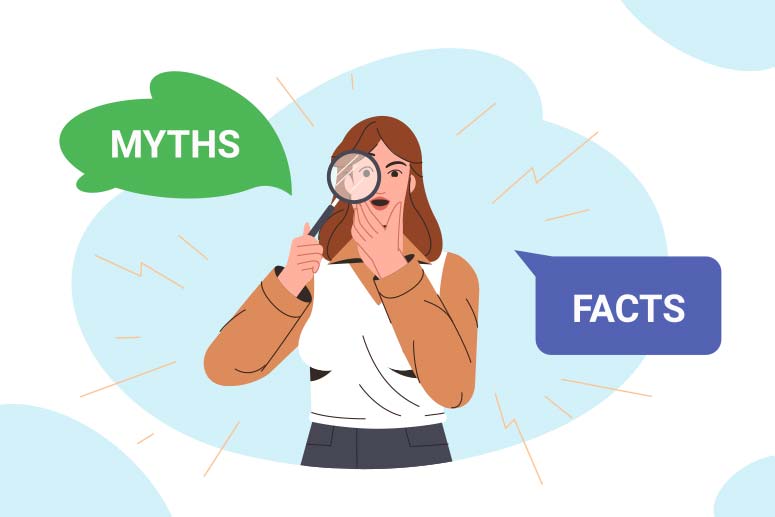 Myth #1: When borrowing money, take the maximum that is offered to you.
You need $500 for some urgent car repairs. You do your research and pick the loan provider that best suits your needs; you fill out the application; and couple of minutes later, you get an email letting you know that you're approved for a $1000 loan. Happy times, huh? Not only can you get the repairs done, but you can also get those chrome alloy rims you've been considering installed. You might even have enough money left over for a fancy celebration night out.
Take it easy, Tiger. Even if it's tempting to get overjoyed when you see more figures than you expected, that doesn't suggest you should take them all. Keep in mind that loan providers tell you how much money you can safely borrow, not how much you ought to.
The repayments rise in proportion to the loan amount. For this reason, if you decide you need a loan to finance any aspect of your life, do the math to establish how much you can actually afford to borrow, and then stick to that amount.
Myth #2: It is impossible to rebuild a bad credit score.
A credit report is nothing more than a record of all your borrowing. a list of all credit lines that have been opened in your name, going back no more than six years. Scores may be negatively impacted by defaults or intrusive credit checks. Even if you close an account, it is not removed from your record, at least not for a long time.
However, it is not all bad news. By making on-time payments and demonstrating that you are a responsible borrower, you can repair your credit score.
Outside the discussions over the benefits and drawbacks of saving money, using credit checks and cash over cards, there are several widespread and persistent misconceptions about private loan providers. So It's just one of money borrowing myths.
Myth #3: Keeping an excellent credit score by paying for everything yourself
Lenders review a potential borrower's credit history before granting a loan. They must assess the risk level a customer has in terms of making repayments and how trustworthy they are while handling money.
It could be challenging for a lender to decide whether it's a risk worth taking if there is no history on a credit file because the person in question pays for everything in cash.
Using cash often appears to be a better option than using credit or skipping payments. If, however, you have never used credit and have only paid cash for everything, it will be more difficult for you to get credit.
Myth #4: Taking out another loan will only worsen my debt condition.
If you can manage to settle your financial debt prior to the agreed-upon date, you can do so without incurring additional fees using installment loans. Before you make the repayments, consult with your lender and ask whether there are penalties for early repayment.

Keep in mind that some financial institutions will penalize you for repaying your loan early. Because of this, you need to make certain that your loan provider isn't one of them.
Myth #5: Lenders of unsecured loans only offer those with serious financial difficulties
The little negative press that unsecured loan providers have received has focused on the misconception that these loans are only available to the poor. Not true, this is one of money borrowing myths. These loans are used for many different things, such as home improvements or when credit ratings indicate that the computer has rejected the application. No matter one's income, these can happen to anyone.
It doesn't necessarily imply you are in financial difficulty just because you didn't have access to your money right away when an emergency expense happened or because you only need a little help because the emergency expense wasn't budgeted for. It's something that almost everyone has gone through at some point in their lives.
Myth #6: Lenders of unsecured loans include secret costs and requirements.
Among money borrowing myths, there is a false belief that unsecured loan providers add fees and change loan terms after they have been granted. This is completely false.
The fact that so few individuals care to read all of the terms and conditions before taking out a loan is most likely the reason this misconception continues. The US lending market is, in fact, quite strictly regulated. Before approving a loan, lenders – all lenders – are required to include fees and terms in explicit detail, making it difficult for lenders to impose fees and restrictions afterwards.
Myth 7: Avoiding a loan from a reputable lender would be in your best interest
Some providers of unsecured loans might actively promote their services. But what sector of the economy these days isn't strongly promoting the advantages of its products?
The demand for these loans in the US is growing, that is the point. Unsecured loan providers are increasingly being used by people countrywide since they are so helpful, especially in times of need.
Final thoughts about money borrowing myths
Money borrowing myths are just a bunch of misconceptions based on a few online posts talking without any knowledge about lending industry. If you are facing a financial emergency whether having bad credit or not, don't hesitate to apply for an installment loan as a quick and secure solution for your financial difficulties.
Cascade Springs Credit Loans
From a Direct Lender